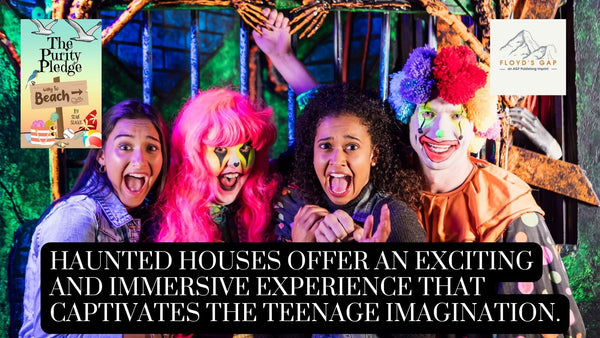 The Thrill of Fear: Exploring Why Teens Love to Visit Haunted Houses
Haunted houses have long captivated the imaginations of people seeking thrilling experiences, and teenagers, in particular, are drawn to these spine-chilling attractions. The allure lies in the adrenaline rush, the excitement of the unknown, and the opportunity to confront fears in a controlled environment. In this article, we delve into the reasons why teens are often fascinated by haunted houses and the psychological factors that contribute to their enjoyment of these eerie adventures.
Adrenaline and Thrill-Seeking: Teenagers are biologically wired to seek novel and thrilling experiences. Visiting haunted houses allows them to satisfy their innate desire for excitement, as the spooky atmosphere, unexpected scares, and suspenseful settings provide a surge of adrenaline. The thrilling nature of these experiences can be exhilarating and leave a lasting impression.

Social Bonding and Group Dynamics: Haunted house visits often occur in groups of friends, providing an opportunity for social bonding and shared experiences. Facing fears and screams together can create a sense of camaraderie and strengthen friendships. The shared memories and inside jokes that result from these outings contribute to a sense of belonging and create lasting connections among peers.

Confronting Fears in a Safe Environment: Haunted houses offer a controlled environment for teens to confront their fears in a safe and controlled setting. The knowledge that the scares are not real and that they can leave at any time provides a sense of reassurance. By facing their fears, teens can experience a sense of triumph and personal growth, gaining confidence in their ability to overcome challenges.

Immersive and Interactive Experiences: Modern haunted houses go beyond traditional jump scares and incorporate immersive storytelling, intricate sets, and interactive elements. This multi-sensory experience engages teens' imagination and curiosity, transporting them into a different world. The opportunity to actively participate and engage with the environment enhances the thrill and makes the experience more memorable.

Temporary Escape from Reality: Haunted houses offer a temporary escape from the monotony of everyday life. Stepping into a haunted attraction allows teens to immerse themselves in a different reality, where the boundaries of normality are blurred. This escape from reality provides a break from routine and offers a chance to experience something out of the ordinary.

Emotional Catharsis: Experiencing fear in a controlled environment can provide a sense of emotional release or catharsis. The surge of fear followed by relief can create a sense of emotional intensity and fulfillment. It allows teens to experience a range of emotions in a safe and contained way, potentially helping them process and regulate their own emotions.
Haunted houses offer an exciting and immersive experience that captivates the teenage imagination. The combination of adrenaline, social bonding, controlled fear, immersive storytelling, escapism, and emotional catharsis contributes to the appeal of these attractions for teens. By understanding the psychological factors that drive their fascination with haunted houses, we can appreciate the unique thrill and enjoyment they derive from these spooky adventures. So, embrace the goosebumps, screams, and shared laughter as teens continue to seek out the exhilarating and unforgettable experiences that haunted houses provide.
In Sean Slagle's The Purity Pledge, the group of friends embarks on an unforgettable evening of scares and thrills at a haunted ride and funeral home. These spooky attractions hold a special appeal for teenagers, offering an exciting and immersive experience that captivates their imagination. The combination of adrenaline, social bonding, controlled fear, immersive storytelling, escapism, and emotional catharsis contributes to the allure of haunted houses for teens. Understanding the psychological factors behind their fascination allows us to appreciate the unique thrill and enjoyment they derive from these spine-chilling adventures. So, as goosebumps rise, screams fill the air, and shared laughter echoes through the halls, let us embrace the exhilarating and unforgettable experiences that haunted houses provide, fostering lasting memories and strengthening the bonds of friendship. #HauntedHouseThrills #TeenAdventures #SpookyAttractions #AdrenalineRush #EmotionalCatharsis #TeenImagination #SeanSlagleNovel #ThePurityPledge #SocialBonding #UnforgettableExperiences