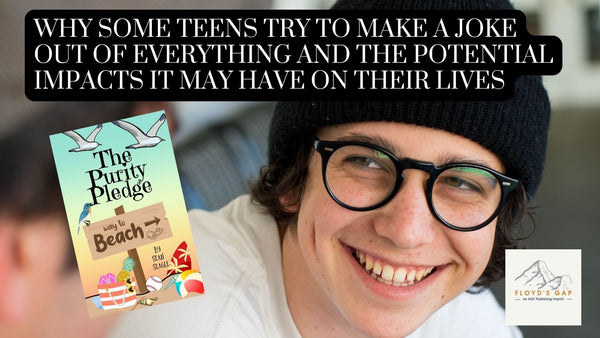 The Laughter Mask: Exploring Why Some Teens Turn Everything into a Joke
Humor is a powerful tool that brings joy, lightens the mood, and helps forge connections. However, some teenagers have a tendency to turn everything into a joke, even in situations where it may not be appropriate. This constant need for humor can stem from various underlying factors, and in this article, we delve into why some teens try to make a joke out of everything and the potential impacts it may have on their lives.
Coping Mechanism: For some teenagers, using humor as a coping mechanism is a way to navigate challenging situations or mask their true emotions. By making light of serious or uncomfortable topics, they may be attempting to deflect attention or alleviate their own discomfort. Humor serves as a defense mechanism to avoid confronting difficult emotions.

Social Acceptance: Making jokes can be a way for teens to seek social acceptance and validation from their peers. In some social circles, wit and humor are highly valued, and individuals who can consistently elicit laughter may gain popularity or a sense of belonging. By using humor as a means of fitting in, teens may feel more accepted and included within their social groups.

Seeking Attention: Teenagers often crave attention and seek ways to stand out or be noticed. Making jokes can be a strategy to grab attention and be the center of attention. By eliciting laughter, they may feel a temporary sense of validation and importance, boosting their self-esteem and providing a fleeting escape from insecurities or feelings of inadequacy.

Fear of Vulnerability: Using humor as a defense mechanism allows teens to avoid displaying vulnerability or expressing deeper emotions. By constantly joking and keeping conversations light-hearted, they can create a protective shield that prevents others from seeing their true thoughts or feelings. This fear of vulnerability may stem from a desire to avoid judgment or rejection.

Escaping Seriousness: Teens may also use humor to escape the weight of seriousness and responsibilities. Life can be overwhelming, and humor provides a temporary escape from stress or difficult situations. By reframing serious or mundane aspects of life into comedic scenarios, they can inject lightheartedness and create a sense of relief from the pressures they face.

Need for Control: Humor allows some teens to regain a sense of control in situations where they may feel powerless or uncertain. By using jokes as a means of steering conversations or influencing the atmosphere, they can direct attention and create a sense of control over social dynamics. This control may provide a sense of security and comfort in unfamiliar or uncomfortable situations.
The inclination of some teenagers to turn everything into a joke can stem from a variety of underlying factors, including coping mechanisms, social acceptance, attention-seeking, fear of vulnerability, the desire to escape seriousness, and the need for control. While humor can be a positive and enjoyable aspect of life, it is important to recognize when constant joking may be masking deeper emotions or hindering genuine connections. Encouraging open and honest conversations, promoting emotional intelligence, and creating a supportive environment can help teens develop a healthy balance between humor and genuine self-expression, allowing them to navigate life's challenges with authenticity and resilience.
In Sean Slagle's The Purity Pledge, the character Reggie resorts to using the laughter mask as a coping mechanism in various situations. As with many teenagers, Reggie's inclination to turn everything into a joke can be attributed to several underlying factors. It may stem from his desire for social acceptance, attention-seeking behavior, fear of vulnerability, and the need to escape seriousness or exert control. While humor can be a positive aspect of life, it is essential to recognize when constant joking may be a way of masking deeper emotions or hindering authentic connections. By encouraging open and honest conversations, promoting emotional intelligence, and fostering a supportive environment, Reggie and other teens can develop a healthy balance between humor and genuine self-expression. This balance allows them to navigate life's challenges with authenticity and resilience, promoting mental well-being and nurturing meaningful relationships. #TeenHumor #CopingMechanism #EmotionalIntelligence #Authenticity #Resilience #SeanSlagleNovel #ThePurityPledge #HealthyBalance #MeaningfulConnections #MentalWellBeing