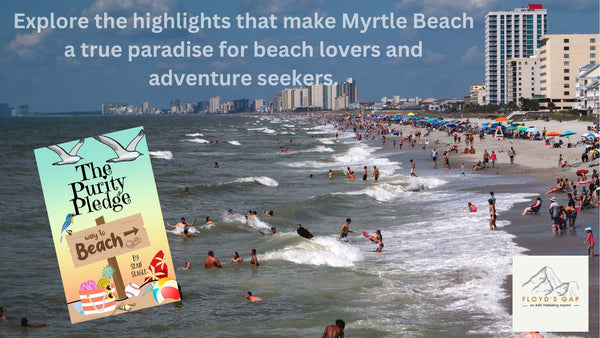 Myrtle Beach: A Coastal Paradise
Located along the beautiful shores of South Carolina, Myrtle Beach is a vibrant and popular coastal city that draws millions of visitors each year. With its stunning beaches, family-friendly attractions, thrilling entertainment, and abundant natural beauty, Myrtle Beach has become a premier vacation destination. Let's explore the highlights that make Myrtle Beach a true paradise for beach lovers and adventure seekers.
Spectacular Beaches: One of the main draws of Myrtle Beach is its expansive stretch of pristine coastline. With over 60 miles of sandy beaches, it's no wonder why visitors flock to this coastal gem. The soft, golden sands invite you to relax under the warm sun, build sandcastles, or take leisurely walks along the water's edge. Whether you're seeking a tranquil spot to unwind or a bustling beach scene, Myrtle Beach offers a variety of beachfront areas to suit every preference.
Family-Friendly Attractions: Myrtle Beach is renowned for its family-friendly atmosphere and plethora of attractions that cater to visitors of all ages. Families can spend thrilling days at amusement parks such as Family Kingdom, where exciting rides and a seaside water park provide endless entertainment. Ripley's Aquarium is another popular attraction, offering a chance to discover an underwater world filled with fascinating marine life.
The Myrtle Beach Boardwalk and Promenade is a bustling hub of activity, with arcades, shops, and restaurants lining the oceanfront. Take a ride on the iconic SkyWheel for breathtaking views of the coastline or catch a live performance at the open-air Myrtle Beach Pavilion.
Golf Capital of the World: Myrtle Beach is often referred to as the "Golf Capital of the World" due to its abundant golf courses and ideal weather conditions. With over 80 championship courses designed by renowned architects, golf enthusiasts can enjoy a round or two in stunning surroundings. From challenging layouts to scenic fairways, Myrtle Beach offers golfing experiences that cater to all skill levels.
Natural Beauty and Outdoor Adventures: Beyond its sandy beaches, Myrtle Beach is blessed with a diverse natural landscape that beckons outdoor enthusiasts. Murrells Inlet, located just south of the city, is a picturesque estuary known for its pristine salt marshes, offering opportunities for kayaking, paddleboarding, and fishing.
For nature lovers, Huntington Beach State Park is a must-visit. This 2,500-acre coastal preserve is home to a wide array of wildlife, including loggerhead sea turtles and over 300 species of birds. Visitors can explore nature trails, relax on the unspoiled beaches, or take a guided tour of Atalaya Castle, a unique Moorish-style mansion nestled within the park.
Entertainment and Nightlife: Myrtle Beach truly comes alive after the sun sets, offering a vibrant nightlife and entertainment scene. The Carolina Opry and Alabama Theatre showcase world-class performances, including music, dance, and comedy shows. Broadway at the Beach, a sprawling entertainment complex, features restaurants, shops, and nightlife venues, ensuring that there's never a dull moment during your visit.
From live music and comedy clubs to beachfront bars and nightclubs, Myrtle Beach offers a diverse range of options for those seeking an exciting evening experience.
Culinary Delights: With a wide array of dining options, Myrtle Beach is a paradise for food lovers. From fresh seafood to international cuisine and Southern classics, the city boasts an impressive culinary scene. Enjoy waterfront dining with stunning ocean views or sample local specialties such as shrimp and grits or she-crab soup. Myrtle Beach also offers plenty of options for casual dining, including seafood shacks and boardwalk eateries serving up delicious fare.
Myrtle Beach has something to offer everyone, from its breathtaking beaches and family-friendly attractions to its world-class golf courses.
The Purity Pledge is a captivating novel by Sean Slagle that unfolds amidst the picturesque beauty of Myrtle Beach, where the sandy shores and glistening waters become an integral backdrop to the characters' journey of self-discovery and young love. Myrtle Beach's vibrant and carefree atmosphere perfectly complements Brandi and Jeremy's quest for solace and freedom after high school. As they navigate the complexities of peer pressure and societal expectations, the allure of Myrtle Beach provides a respite, allowing them to cherish carefree moments and genuine connections. Sean Slagle's vivid descriptions transport readers to the heart of this coastal paradise, where the SkyWheel, the boardwalk, and the sound of crashing waves invite the characters to experience the highs and lows of their intense love. Myrtle Beach becomes more than just a setting; it becomes a character that weaves the threads of adventure, passion, and the transformative power of youth throughout the captivating narrative.
#MyrtleBeach #coastalparadise #SouthCarolina #beaches #familyfriendlyattractions #entertainment #naturalbeauty #GolfCapitaloftheWorld #outdooradventures #nightlife #culinarydelights #vacationdestination #ThePurityPledge #SeanSlagle