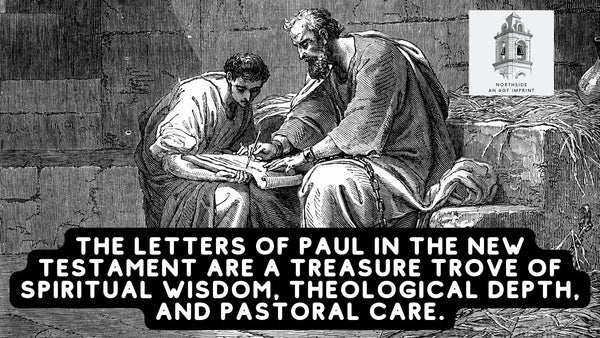 Unveiling the Wisdom: An Introduction to the Letters of Paul in the New Testament
The Letters of Paul, also known as the Pauline Epistles, stand as a treasured collection of timeless wisdom and spiritual guidance within the New Testament of the Bible. Authored by the apostle Paul, these letters offer valuable insights into Christian doctrine, theology, and practical living. In this introductory article, we will explore the significance of the Pauline Epistles, their historical context, and the rich spiritual treasures they hold, inviting readers to delve into the profound teachings of one of Christianity's most influential figures.
The Apostle Paul: A Powerful Witness Paul, formerly known as Saul of Tarsus, was a zealous persecutor of early Christians until a transformative encounter with Jesus on the road to Damascus (Acts 9). Commissioned as an apostle by Christ Himself, Paul became a powerful witness and missionary, carrying the Gospel message to diverse regions and cultures.

The Pauline Epistles: A Comprehensive Collection The Pauline Epistles consist of thirteen letters attributed to Paul, addressed to various early Christian communities and individuals. These letters include Romans, 1 and 2 Corinthians, Galatians, Ephesians, Philippians, Colossians, 1 and 2 Thessalonians, 1 and 2 Timothy, Titus, Philemon, and Hebrews (though authorship of Hebrews is debated).

Doctrinal Teachings and Practical Wisdom Paul's letters delve into a wide range of theological themes and practical instructions for Christian living. Topics covered include salvation by grace through faith, the role of the law in the Christian life, the indwelling of the Holy Spirit, the nature of Christ, the importance of love and unity within the Church, and the hope of Christ's second coming.

Pastoral Care and Encouragement In his letters, Paul offers pastoral care and encouragement to various Christian communities and individuals. He addresses their struggles, corrects theological misconceptions, and provides guidance for addressing challenges within the early Church.

Universal Relevance and Timeless Wisdom Despite being written nearly two millennia ago, the Pauline Epistles remain relevant and applicable to contemporary believers. Their teachings on faith, grace, redemption, and Christian living continue to inspire and guide Christians of all generations.
The Letters of Paul in the New Testament are a treasure trove of spiritual wisdom, theological depth, and pastoral care. As readers engage with these epistles, they are invited to uncover the profound teachings of a man who underwent a radical transformation and became an influential apostle and ambassador for Christ. The Pauline Epistles offer profound insights into the Christian faith, challenging believers to grow in knowledge, grace, and godliness. May these letters continue to be a source of spiritual nourishment and guidance, empowering us to live lives that honor God and reflect the transformative power of the Gospel.
In New Testament Devotions for Today by Dr. Jerry D. Ingalls, readers have the opportunity to delve into the profound teachings of the Pauline Epistles. Just as the Letters of Paul in the New Testament are a treasure trove of spiritual wisdom, Dr. Ingalls' devotional offers valuable insights and theological depth for believers. As readers engage with these epistles and the accompanying devotions, they are encouraged to undergo their own radical transformation, deepening their connection with Jesus Christ and becoming ambassadors for Him. The devotional's emphasis on spiritual nourishment and growth in grace and godliness aligns with the challenges presented by the Pauline Epistles. Both sources invite believers to live lives that honor God and reflect the transformative power of the Gospel, making this devotional a valuable resource for enhancing one's understanding of the Christian faith and fostering a closer relationship with the Savior. You can learn more about Dr. Ingalls at www.jerryingalls.com
#LettersOfPaul #PaulineEpistles #TimelessWisdom #ChristianLiving #PastoralCare #Transformation #ChristianFaith #GospelTeachings #SpiritualGuidance #NewTestamentWisdom #NewTestamentDevotions #SpiritualWisdom #TheologicalDepth #PastoralCare #PaulineEpistles #BiblicalTeachings #TransformationalJourney #GraceAndGodliness #SpiritualNourishment #GospelPower #DailyDevotions #SeizeTheMoment #Inspiration #Empowerment #ChristianLiving #PersonalGrowth #SpiritualJourney #AmbassadorsForChrist #HonorGod #BibleStudy #ChristianBooks #SpiritualGuidance #GodsWord #BlessedDaily #SeekIntimacyWithGod #TransformationThroughFaith #DevotionalContent #GodsPromises #ChristCenteredLiving #ChristianLife