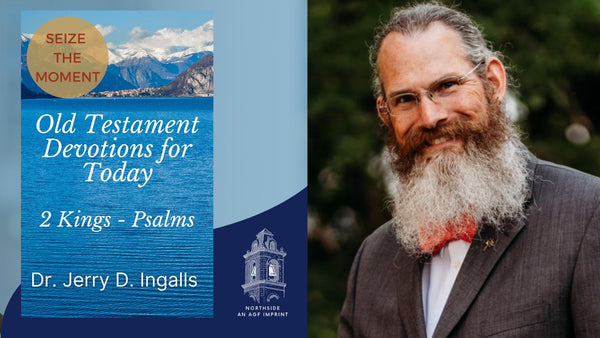 Seize the Moment: 'Old Testament Devotions for Today (2 Kings - Psalms) by Dr. Jerry D. Ingalls Now Available!
We are delighted to bring you some extraordinary news – Dr. Jerry D. Ingalls, the acclaimed author of the Seize the Moment Devotional Series, has just unveiled his latest masterpiece: Old Testament Devotions for Today (2 Kings - Psalms). This captivating book, the third installment in the series, promises to be a beacon of inspiration for your spiritual journey and an illuminating guide to deepening your faith.
A Journey Through Time and Faith:
In "Old Testament Devotions for Today," Dr. Ingalls takes us on a transformative journey through the pages of the Old Testament. He skillfully unravels the ancient wisdom contained within these sacred texts and demonstrates how this wisdom remains profoundly relevant in our lives today.
The central theme of this book is seizing every moment as a providential opportunity to grow closer to Jesus and living a life filled with purpose and meaning. Through daily devotionals, Dr. Ingalls invites us to embark on a spiritual adventure like no other.
Why You Should Embrace This Journey:
Here's what you can expect to gain from this remarkable book:
Fresh Insights: Dr. Ingalls' thought-provoking interpretations of Old Testament passages provide fresh insights that resonate with the complexities of modern life.

Spiritual Strength: Daily devotionals offer a structured approach to deepening your faith and spiritual vitality.

Application of Ancient Wisdom: Learn how to apply the ancient wisdom from the Old Testament to navigate the challenges of contemporary living.

The Divine Connection: This book beautifully illustrates the connection between providence, faith, and daily living, illuminating the path to a more enriched and purpose-driven life.
How to Begin Your Journey:
We understand that you must be eager to dive into this transformative experience, and you can do so today. Old Testament Devotions for Today (2 Kings - Psalms) is now available for purchase through major online retailers, or you can visit www.jerryingalls.com for more information.
Are you ready to seize every moment and unlock the spiritual vitality that resides within you? This book will be your guide, and it's only a click away.
Join Us on the Journey:
We invite you to join us in this extraordinary journey of faith and personal growth. Share your thoughts, insights, and experiences with us on social media using the hashtag #OTDevotionsForToday. Let's build a community of spiritual seekers who are committed to seizing the moment and living lives of purpose.
Thank you for being a part of this enriching journey of faith and transformation. We look forward to sharing this remarkable adventure with you.
Old Testament Devotions for Today (2 Kings - Psalms) by Dr. Jerry D. Ingalls is a compelling exploration of ancient wisdom and its enduring relevance in our contemporary lives. This insightful book, the third installment in the Seize the Moment Devotional Series, offers a daily roadmap to spiritual growth and purposeful living. Dr. Ingalls takes readers on a profound journey through the Old Testament, illuminating its timeless lessons and guiding us in seizing providential opportunities to draw closer to Jesus. With each daily devotion, readers discover how to apply these age-old truths to navigate the complexities of modern existence. As you immerse yourself in this treasure trove of spiritual insights, you'll be inspired to live a life that is more deeply rooted in faith, purpose, and divine guidance. Old Testament Devotions for Today (2 Kings - Psalms) is a guidebook for those seeking to enrich their faith and embrace a more spiritually fulfilling life.
#OldTestamentDevotions #DrJerryDIngalls #DailyDevotionals #SpiritualGrowth #FaithAndProvidence #PurposefulLiving #WisdomFromTheOldTestament #TransformativeInsights #SeizeTheMomentDevotionalSeries #SpiritualJourney #ContemporarySpirituality #ChristianFaith #InspirationalLiterature #FaithBasedGuidance #FaithfulLiving