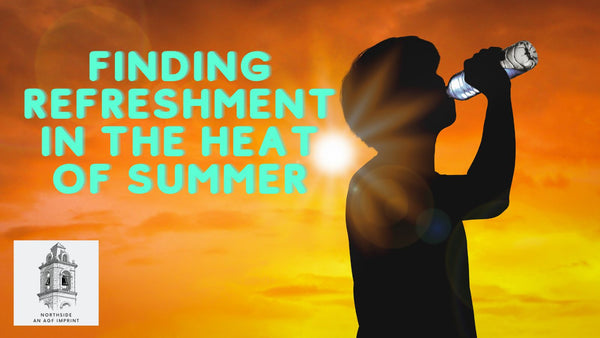 Finding Refreshment in the Heat of Summer
Scripture: Isaiah 43:2 (NIV) "When you pass through the waters, I will be with you; and when you pass through the rivers, they will not sweep over you. When you walk through the fire, you will not be burned; the flames will not set you ablaze."
Devotion:
As the scorching rays of summer beat down upon us, we can't help but feel the intensity of the heat. Just as we experience the sweltering temperatures outside, life's challenges can also feel like we're walking through a relentless and fiery furnace. However, in the midst of this blazing season, we find comfort in knowing that our Lord walks with us and offers us respite.
In Isaiah 43:2, God promises His presence and protection as we journey through difficult times. Just as the sun can be relentless, life's trials can feel overwhelming and draining. But fear not, for the Lord is with us through every step of our journey, providing us the strength to endure and overcome.
When the heat becomes unbearable, and we're tempted to lose hope, let us remember that our Heavenly Father is our refuge and source of refreshment. Just as a cool drink quenches our physical thirst on a hot day, spending time in prayer and studying His Word quenches our spiritual thirst.
Embrace the summer season as an opportunity to draw near to God, seeking His guidance and comfort in the midst of life's heat. Seek moments of stillness in His presence, for it is in those moments that we find solace and are strengthened to navigate through life's fiery trials.
Furthermore, just as the summer season brings with it vibrant blooms and fruitful harvests, let us use this time to grow and bear fruits in our faith. In every trial we face, let us lean into the arms of our loving Father, trusting that He will carry us through the fire unharmed.
So, dear brothers and sisters, let us take heart and be encouraged. The heat of summer may be intense, but our God is mightier than any scorching sun or fiery trial we encounter. Let us seek His presence, find refreshment in His Word, and let His love and grace be the shade that protects us from life's sweltering heat. May we emerge from this season stronger in our faith and more steadfast in our trust in Him. Amen.
Prayer:
Heavenly Father, as we face the heat of summer and life's challenges, we thank you for the promise of your presence and protection. Help us find solace and refreshment in Your Word and draw near to You in prayer. Grant us the strength to endure every trial, knowing that You are with us every step of the way. May this season be an opportunity for our faith to grow, and may we emerge stronger and more steadfast in our trust in You. In Jesus' name, we pray. Amen.