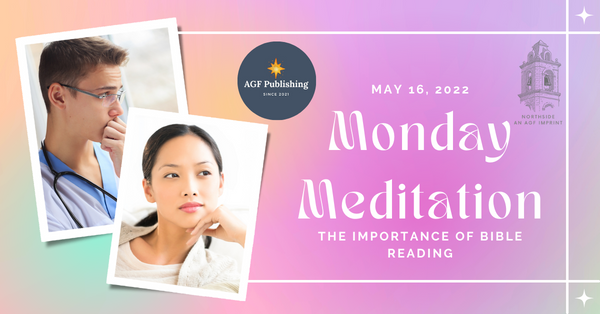 The Importance of Bible Reading
AGF Publishing started publishing bible devotions in our first year of existence because we recognize the importance of helping people spend time in God's word. There will soon be biblical resources as well. Our goals as a company are to entertain, educate, inform, and inspire people of all ages. We do this through our various imprints to reach readers where they are in life's journey.
Our imprint Northside Books & Media is for our Christian audience to find entertainment, education, information, and inspiration. With Seize the Moment! New Testament Devotions for Today and Live Like a Champion Today! The 40 Promises in 40 Days Challenge, we started with the foundational pieces of biblical devotions, because the daily habit of bible reading and praying are key to the Christian journey.
2 Timothy chapter 3 explains the importance of bible reading. Here are a few key points:
Bible reading prevents you from being a deceiver or being deceived (13). If you don't feed yourself spiritually, you're not going to grow.

The word of God makes you smarter (15). You can gain all of the education in the world, but if you don't know God and his word, then you have missed the mark for his plan in your life.

God wrote the book (16). The bible is our guidebook, our playbook, our instructions from the creator of the universe. Doesn't it seem odd that we wouldn't take advantage of such a great resource?

The bible equips you (17). The bible is our source to help us on our Christian journey. It encourages, challenges, and renews our spirit to walk the path of righteousness.
Be encouraged to read your bible everyday. Find a devotional to help you meditate on God's word that you may apply to your life as you live out your faith in Christ. Pick up a journal and write out what you've learned. Use a journal to also write out your prayers to God. Find the time and ways to make daily bible reading and praying a part of your life.