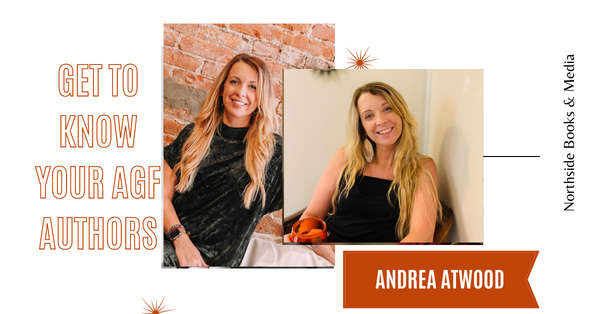 Andrea Atwood Q&A
Andrea Atwood recently signed a book deal with AGF Publishing. Her book - working title SEEK FIRST - will be released in the fall. We are so excited to have Andrea with us at AGF that we want you to get to know her as well. So, we asked her these five questions.
1) What books do you enjoy reading and why?
I love to read fiction and non fiction. For fiction, I love a good story. I enjoy mysteries and literary fiction. For non fiction I enjoy essays and memoirs.

2) What are you currently reading and why?
I'm reading Get Out of Your Head by Jennie Allen and Suffer Strong by Katherine and Jay Wolf.

3) What books or authors inspired you to become a writer?
Anne Lamott Bird by Bird
Elizabeth Gilbert Big Magic
Natalie Goldberg Writing Down the Bones

4) Do you see writing as a spiritual or therapeutic practice? 
Absolutely. I journal daily. This gets my "voice" warmed up. These entries become inspirations for essays later.

5) If you could invite any 3 people (living or dead) to dinner, whom would you invite and why?
My grandma Thelma. She was a devout Christian and a writer. She suffered from Alzheimer's so I was never able to have a conversation with her in my lifetime. I would love to hear her perspective now that she's been in heaven.
Shane Claiborne. He is a Christian activist and writer. His book Irresistible Revolution awakened me to Jesus when I had been put off by religion.
Drew Barrymore just because I think she would be fun! She's a great storyteller too.