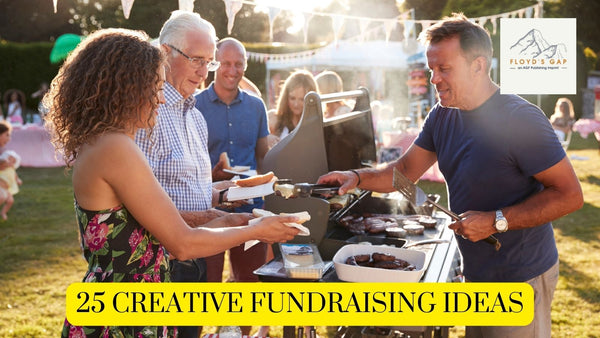 25 Creative Fundraising Ideas: Empowering Students and Teachers
Fundraisers are an excellent way for students and teachers to come together, raise funds, and support worthy causes. Whether it's for school programs, charity organizations, or special events, conducting fundraisers fosters a sense of community and empowers everyone involved. In this article, we'll explore 25 creative fundraising ideas that students and teachers can use to make a positive impact.
Bake Sales: Organize delicious bake sales with homemade treats and goodies.

Charity Walks: Host charity walks or runs to raise funds for a cause close to your hearts.

Talent Shows: Showcase student and teacher talents in a fun-filled talent show event.

Auctions: Arrange silent or live auctions, featuring donated items from the community.

Car Washes: Set up car wash stations for a refreshing way to fundraise.

Book Sales: Hold book sales with donated or gently used books for fellow book enthusiasts.

Movie Nights: Host movie nights in the school auditorium, complete with snacks and entertainment.

Gift Wrapping Services: Offer gift wrapping services during holidays or special occasions.

Spirit Days: Organize spirit days where students and teachers dress up and contribute a small donation.

Art Shows: Exhibit students' artwork and sell art pieces at an art show fundraiser.

Sports Tournaments: Hold sports tournaments, like basketball or soccer, with entry fees benefiting the cause.

Carnival or Fair: Plan a school carnival or fair with games, food stalls, and activities.

Trivia Night: Host a fun-filled trivia night event with entry fees and prizes for the winners.

Craft Sales: Sell handmade crafts or artwork created by students and teachers.

Lemonade Stand: Set up refreshing lemonade stands during warm days.

Pancake Breakfast: Host a pancake breakfast event, where attendees donate for a hearty meal.

Raffles: Organize raffles with exciting prizes, encouraging participants to buy tickets.

Dance-a-Thon: Arrange a dance-a-thon with sponsored dancers raising funds for every hour they dance.

Pet Show: Hold a pet show where students and teachers can showcase their beloved pets.

Food Truck Festival: Host a food truck festival with a portion of sales going to the cause.

DIY Workshops: Offer DIY workshops or classes and charge a fee for participation.

Garage Sale: Organize a garage sale with donated items from the community.

Video Game Tournament: Host a video game tournament with an entry fee for participants.

Plant Sale: Sell potted plants or gardening supplies in a plant sale fundraiser.

Virtual Events: Explore virtual events like online quizzes, concerts, or workshops with online donations.
Fundraising is a powerful way for students and teachers to make a positive impact on their community and beyond. These 25 creative fundraising ideas provide a diverse range of opportunities to come together, raise funds, and support important causes. From traditional bake sales and auctions to virtual events and online initiatives, there are endless possibilities for students and teachers to make a difference and inspire change through fundraising. So, rally your school community, embrace your creativity, and let these fundraising ideas spark a collective effort for a better, brighter world.
Floyd's Gap, an AGF Imprint, empowers students and teachers with young adult novels, teaching resources, and timely blog articles. Dedicated to fostering success in education, we provide valuable tools for academic growth and inspiration.
#FundraisingIdeas #EmpowerStudents #SupportCauses #CreativeFundraisers #CommunityImpact #MakeADifference #PositiveChange #SchoolFundraisers #TeachersForACause