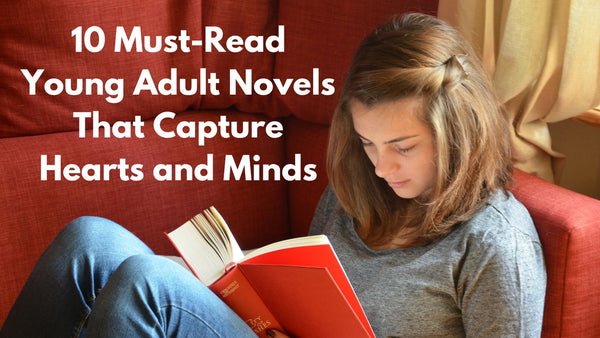 10 Must-Read Young Adult Novels That Capture Hearts and Minds
Young adult (YA) literature has taken the literary world by storm, captivating readers of all ages with its powerful storytelling and relatable themes. Whether you're a teenager seeking relatable characters or an adult looking to rediscover the magic of youth, YA novels have something for everyone. In this list, we present ten exceptional young adult novels that have left an indelible mark on readers across generations. From tales of courage and self-discovery to journeys of friendship and love, these books offer a glimpse into the complexities of growing up while exploring universal truths that resonate with readers worldwide.
"The Fault in Our Stars" by John Green: This poignant novel follows the journey of Hazel Grace Lancaster and Augustus Waters, two teenagers battling life-threatening illnesses. Their love story is both heartwarming and heart-wrenching, exploring the profound impact of love and loss on the human spirit.

"Harry Potter and the Sorcerer's Stone" by J.K. Rowling: A modern classic, this book introduces readers to the magical world of Hogwarts and the boy who lived, Harry Potter. The series follows Harry's adventures as he discovers his destiny and confronts the forces of darkness.

"The Hate U Give" by Angie Thomas: Addressing timely and important issues of racial injustice, this novel follows Starr Carter as she navigates the aftermath of witnessing her best friend's murder at the hands of the police. Powerful and thought-provoking, it sheds light on the complexities of race, identity, and activism.

"To All the Boys I've Loved Before" by Jenny Han: This charming romance follows Lara Jean Covey, a high school student whose life turns upside down when her secret love letters are unexpectedly sent to her past crushes. A delightful tale of love, family, and self-discovery.

"The Book Thief" by Markus Zusak: Set in Nazi Germany, this unique narrative is narrated by Death and centers around Liesel Meminger, a young girl who discovers solace and hope through stolen books during one of history's darkest periods.

"The Perks of Being a Wallflower" by Stephen Chbosky: Told through a series of letters, this coming-of-age story chronicles the experiences of Charlie as he navigates high school, friendship, and the complexities of mental health.

"The Hunger Games" by Suzanne Collins: In a dystopian world, Katniss Everdeen volunteers for the Hunger Games, a televised fight to the death, to protect her sister. This gripping series explores themes of survival, rebellion, and sacrifice.

"Thirteen Reasons Why" by Jay Asher: Through a series of cassette tapes, this novel unravels the reasons why teenager Hannah Baker chose to end her life. A thought-provoking exploration of the impact of bullying and the importance of empathy.

"The Giver" by Lois Lowry: In a seemingly perfect society, Jonas is chosen to receive memories of the past from the Giver. This thought-provoking novel challenges societal norms and explores the value of individuality.

"Speak" by Laurie Halse Anderson: 

a powerful and poignant novel that follows a high school freshman who becomes an outcast after a traumatic event. Through her hauntingly honest and courageous voice, the book explores themes of trauma, resilience, and the healing power of speaking one's truth.

 
These ten young adult novels are a testament to the power of storytelling and their ability to touch hearts and minds across generations. From tales of love and friendship to tackling tough societal issues, these books continue to resonate with readers of all ages, leaving a lasting impact on their perspectives and understanding of the world. Embrace the magic of YA literature and embark on these unforgettable journeys of self-discovery, empathy, and hope.
If these titles resonate with you, don't miss the chance to explore our catalog of young adult novels. You'll discover captivating stories that speak to the hearts of readers of all ages, filled with relatable themes, courageous characters, and thought-provoking narratives.
#YoungAdultNovels #MustReads #CaptivateHeartsAndMinds #HarryPotterAndTheSorcerersStone #ToAllTheBoysIveLovedBefore #CaptivatingStorytelling #RelatableThemes #TalesOfCourage #Friendship #SelfDiscovery #TheHateUGive #ThirteenReasonsWhy #ThoughtProvokingNarratives #Teenagers #Nostalgia #ExceptionalBooks #YALiterature #ImpactfulNovels #EnrichYourReadingList #TimelessStories